Reviews for Randy Rutherford
---
In Brief:
"
Brilliant, inspirational, sheer magic.
"
Uptown Magazine
"
Tremendously well crafted
"
Victoria Times Colonist
"
Engaging, radiant, emotionally honest & surprisingly funny. A must see
"
Monday Magazine
"
Powerfully eloquent ... hilarious ... spellbinding
" -
Ottawa Citizen
"
Intimate and moving, this show is a powerhouse… 75 minutes that fly by.
"
Edmonton Journal
"
Gorgeous ... What this fringe veteran, troubadour and master storyteller gives his audience
... goes well beyond entertainment.
"
Winnipeg Free Press
"
The real thing
"
Seattle Tribune
"
If you missed [Rutherford] last year, don't make the same mistake this year.
"
Winnipeg Free Press
"
A wickedly engaging ... hard-hitting ... matchless raconteur
"
- CBC Edmonton
"
Just when you think you'll self-destruct at the thought of another mawkish exercise in nostalgia, a performer comes along
to remind us that art doesn't carry a best-before date. ... His attention to detail is dazzling.
"
Edmonton Journal
"
Beautiful
"
Orlando Sentinel
"
Hilarious
"
Oakland Tribune
"
Irresistible… A very powerful story that speaks from the heart… I recommend it highly.
"
Toronto Globe & Mail
"
Stellar
"
- San Francisco Examiner
"
Soulful and engrossing
"
- San Francisco Bay Guardian
"
One of the funniest, most poignant and inspiring performances you're likely to see for a long time.
"
Toronto Star
---
For Weaverville Waltz reviews, click here.
---
Reviews for Dance Pants
: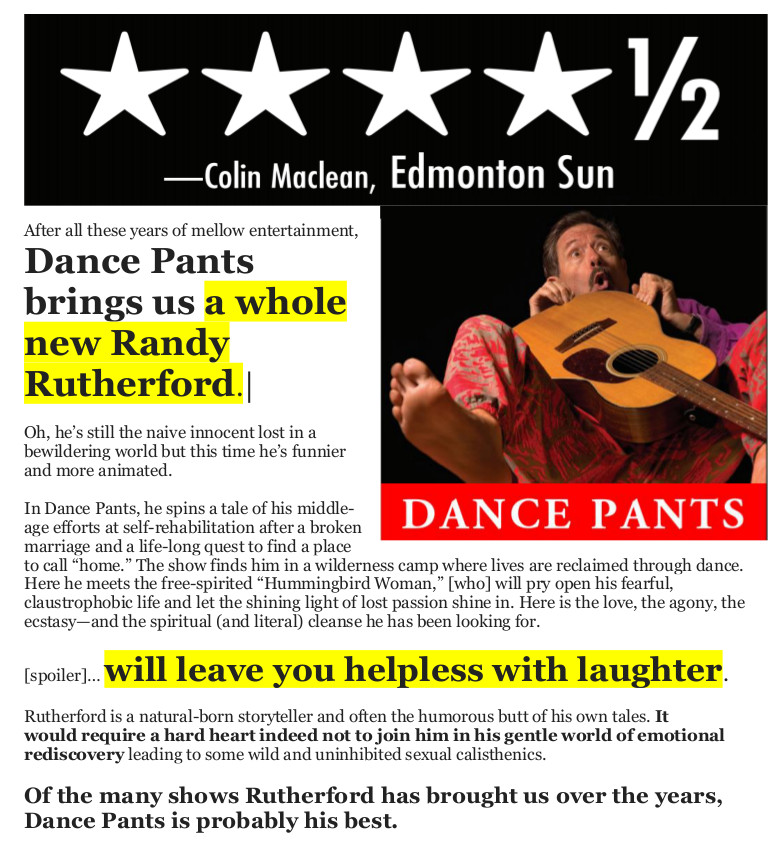 Once again [he] gets under our skin with a deceptively simple approach to storytelling, one that speaks of casual comedy finely rehearsed.... Rutherford is feeling a little funny about hitting 40, newly divorced, and being pushed by a friend to "mingle" at a dance camp.... Rutherford's journey through life takes many funny twists. But a serious side always lurks beneath... - Peter Birnie, Vancouver Sun

Rutherford's pursuit ... produces hilarity as she introduces him to ... uninhibited sex, vegetarianism and various rejuvenating health measures. Among them is the high colonic ... ... a masterful blend of humor, poignancy and music that's become Rutherford's reliable trademark.

Noel Gallagher – The London Free Press

---
Reviews for
Singing at the Edge of the World
: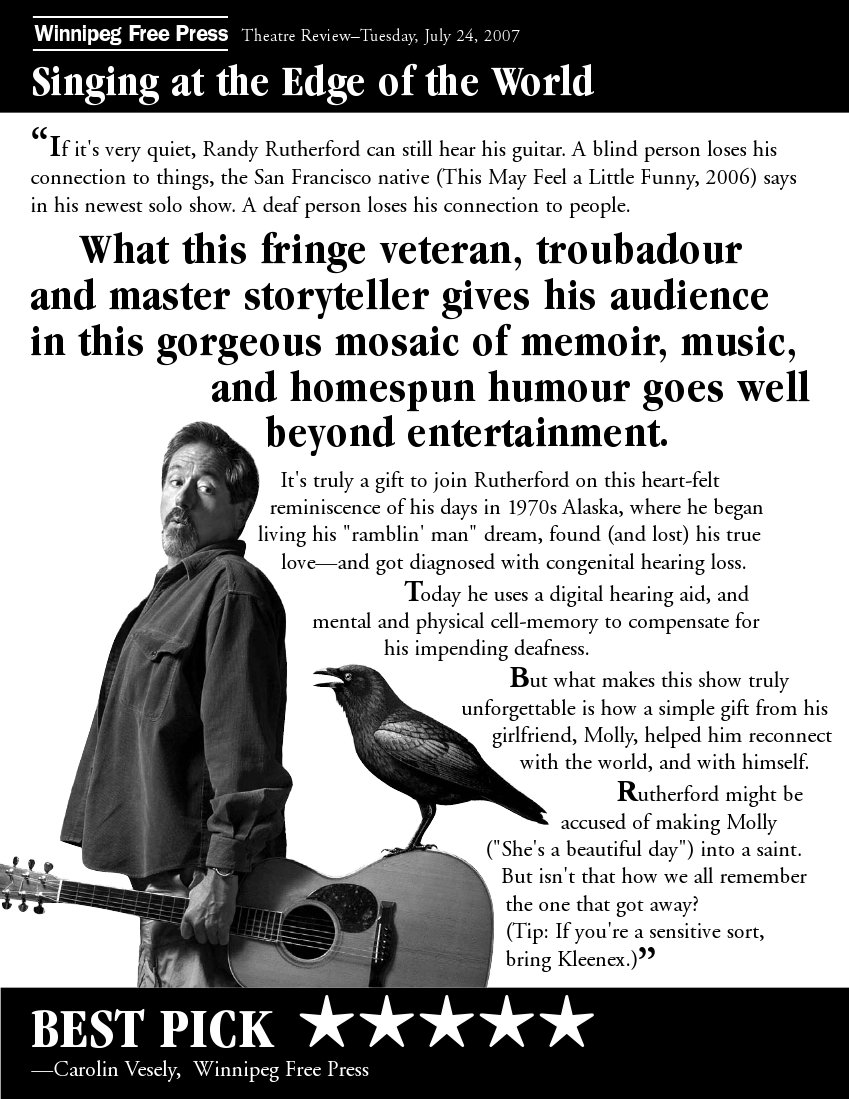 Winnipeg Free Press
Demetra Hajidiacos July 21, 2008
Singing at the Edge of the World
If you missed this grippingly honest autobiographical tale
of musician Randy Rutherford's battle with congenital hearing loss
at last year's festival, don't make the same mistake again this year.
The San Francisco native, donning a digital ear piece, serves up a lyrical 80-minute performance driven by powerful storytelling that
pops with unexpected humour and the kind of music that makes your hair stand up.
Rutherford transports the audience back to his carefree youth in the 1970s when love was in the air and being paid to play the acoustic guitar at Alaska's Fancy Moose Saloon was like having died and gone to heaven. When the music starts slipping away, so does Rutherford's perfect life, and it takes one last visit from someone he cares deeply about to appreciate the importance of dreaming no matter what life throws your way.
Heart-rendingly beautiful. A must-see.
Toronto Star
Bruce DeMara
source
Jul 09, 2008
Highly recommended
Singing at the Edge of the World
What could be more soul-crushing than for a musician who loves playing the guitar to have his hearing destroyed by a hereditary disease? Yet Randy Rutherford's one-man show is
one of the funniest, most poignant and inspiring performances you're likely to see for a long time.
In addition to his sonorous singing voice, it helps that Rutherford is a natural storyteller. He evokes rich memories of decades past as a young man in Anchorage, Alaska ("the edge of the world" of the title), who's too shy to talk to girls until they start to notice him; of his first pair of cowboy boots ("not too practical for the Arctic"); of growing his hair long to be more like a real musician; of playing in coffee houses; of sunlit summer nights and dark, freezing winter ones; of shape-shifting ravens and a beautiful, young woman he drives away due to his despair.
While blind people lose their connection to things, deaf people lose their connection to people, he observes sagely.
And when redemption comes, it is enlightening, heartwarming and rewarding.
CBC Edmonton
Tina Faiz
source
August 21, 2008
(no star-rating system)
Singing at the Edge of the World
A Fringe Festival staple with five solo shows under his belt, master storyteller and folk singer Randy Rutherford has earned a well-deserved fan following in Edmonton and in other Fringe stops across the country.
He's a
wickedly engaging
performer who knows how to spin a tale, boasting an amazing sense of high-veracity detail and an unerring ability to quickly and emotionally connect with the audience.
This most recent one-person show documents his days as a folksinger in 1970s Alaska. Young Rutherford thinks he has it all--a beautiful and caring girlfriend, a cool convertible and a great gig at the Fancy Moose Saloon--until a congenital hearing loss strikes and destroys his burgeoning career virtually before it starts.
Reviewer tips hat to Fringe circuit Meistersinger: This show is filled with some
hard-hitting
and emotionally draining source material, but this
matchless raconteur
rises effortlessly to meet every challenge his fascinating narrative presents.
CBC Radio One Ottawa
Kaj Hasselriis June 26, 2008
Singing at the Edge of the World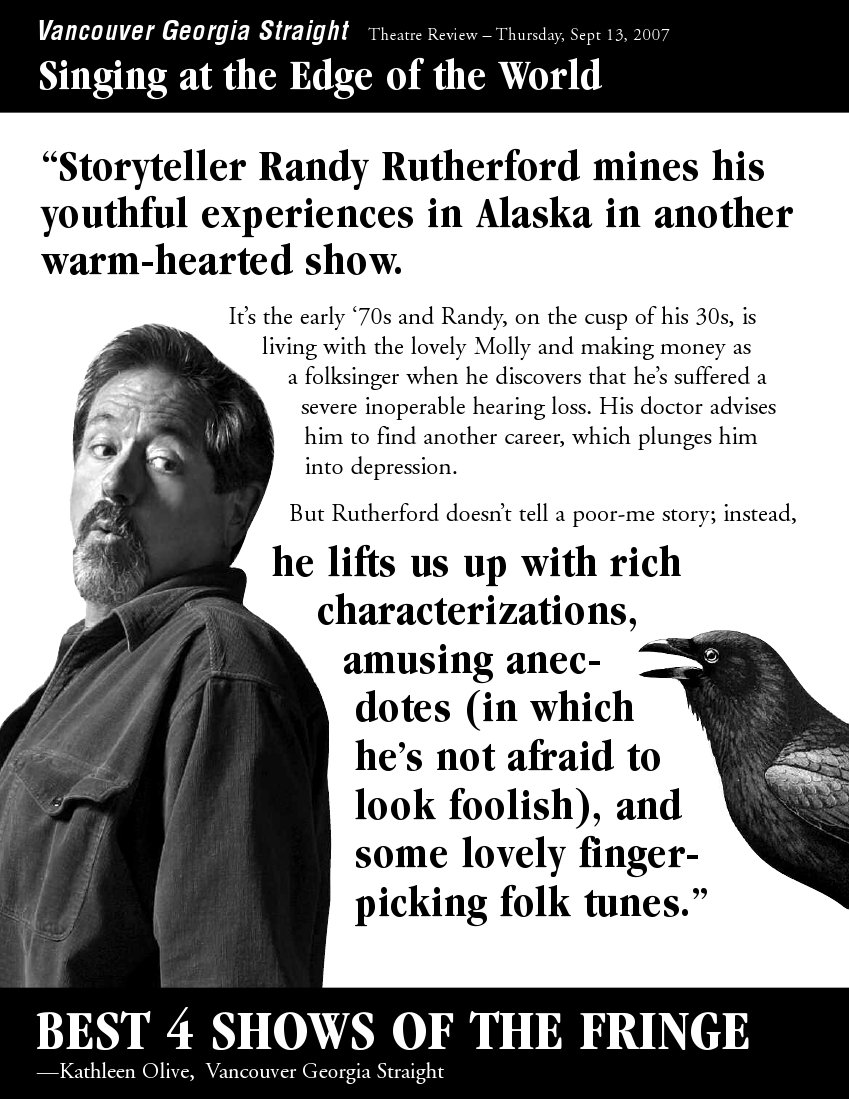 The Star Phoenix
Hannah Scissons August 02, 2008
Singing at the Edge of the World
Are you kidding?
There isn't much else folksinger Randy Rutherford can say to his doctor when he's told his hearing loss is congenital and "there's nothing that can be done."
Rutherford's autobiographical
Singing at the Edge of the World
tells the story of his life in the '70s in Alaska -- a regular gig at the Fancy Moose, a wonderful girlfriend -- and then the hearing loss.
"Anybody here remember the '70s?" he asks the audience at the beginning of the show. Amidst clapping, there's a few, "Oh yeahs." And
this reviewer gets a little worried, being someone who's still regularly ID'd at the liquor store.
But Rutherford's show isn't so much about the '70s as it is about the timeless tales of insane challenges life can throw your way.
And while a knowledge of '70s music no doubt would add another layer of appreciation to Singing at the Edge, it's not necessary in order to connect with the message Rutherford shares -- and not in a preachy manner: "Don't ever give up because you're afraid of what might happen."
Make Storytelling at the Edge a stop on your Fringe journey, because
Rutherford's storytelling pulls at the heartstrings as masterfully as he plucks the guitar.
Winnipeg Sun
Brad Cartman July 21, 2008
4 out of 4
Singing at the Edge of the World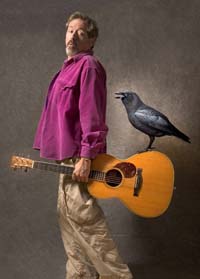 Veteran folksinger Randy Rutherford relates his true tale of life with congenital hearing loss and its effect on his performance.
It's a fate that would devastate anyone, but when your life revolves around performing music and communicating, it seems even more overwhelming.
Rutherford is a superb fingerpicking guitarist who spent most of the '70s in Alaska, and he's the kind of guy you would love to have around the campfire with a group of friends.
Thanks to digital hearing aids and decades of practice, Rutherford's endearing performance isn't hindered by his hearing loss, but instead made that much more exceptional.
Best of Fest, Winnipeg Fringe Festival 2008
The theatre festival that hardly sleeps announced its Best of Fest ....
(source)
Vue Weekly
Lewis Kelly, Four Stars (
source
)
Singing at the Edge of the World
Randy Rutherford suffers from severe hearing loss. When he comes on stage to perform this autobiographical one-man show, you can see his hearing aids and hear his unusual speech. When he picks up his guitar and plucks a few chords, though, it becomes clear that he's got things that his hearing loss cannot take away:
captivating stage presence
, a powerful charisma and, most of all,
one hell of a one-man show
. Rutherford deftly combines comedy, drama and music into a polished and professional performance that you'd be foolish to turn a deaf ear to.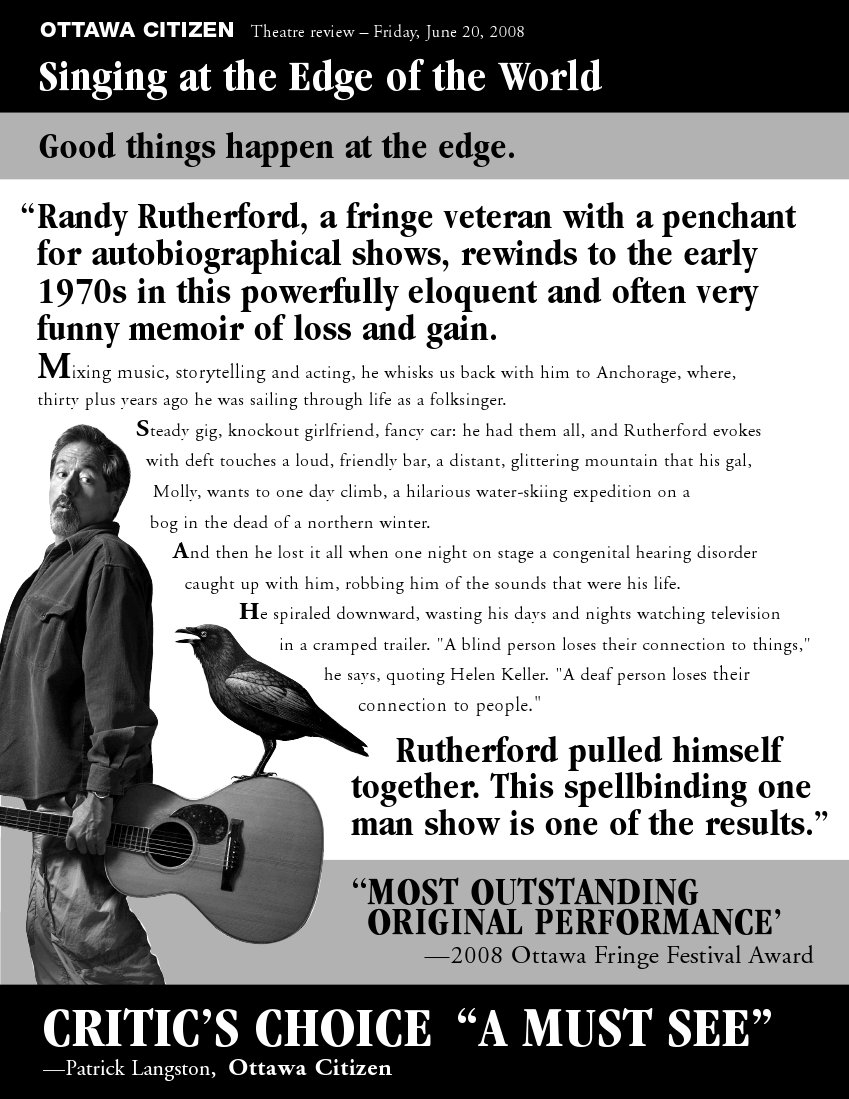 Other reviews:
"[He] interweaves characters, locations and leaps in time seamlessly... Stellar storytelling."
Anne Crump, San Francisco Examiner

Robin Chase, Minneapolis Star-Tribune

"Soulful and engrossing ... an affecting tale of lost innocence." Robert Avila, San Francisco Bay Guardian
"The real thing" Seattle Tribune -->
Click to read
Reviews for Randy's four previous solo shows
including:
"
I can't think of a finer way to spend 80 minutes
"
-
Canadian Broadcast Corporation
(sorry - that page is not easy to read; it's not my site!)